Best Hygiene Products For Your Home
Reviewed and Rated!
Countless hours of my life have been wasted on Amazon. I find it equally as (if not more) addicting than Pinterest because there are so many random items you come across. I especially love to scroll through the beauty section, specifically the "best sellers" portion. You can find so many strange hygiene products that surprisingly have a cult-following on Amazon while perusing the pages. I'm talking items that literally have thousands upon thousands of rave reviews from verified users.
When you think about it, items that garner that much attention must be pretty spectacular. From shea butter to soap to nail clippers to a refreshing facial spray, people have a lot of positive things to say about a lot of random hygiene products on Amazon. The great thing about these products is that the high number of positive reviews means that you can rest assured you are investing in an item that is tried and true and will add value to your hygiene routine. So if you're looking to amp up your cleanliness with a foot cream, a special deodorant, coconut oil, or a facial brush, head over to Amazon to check out the products that have a massive cult following.
1. This Vegan Soap Even Meat-Eaters Will Love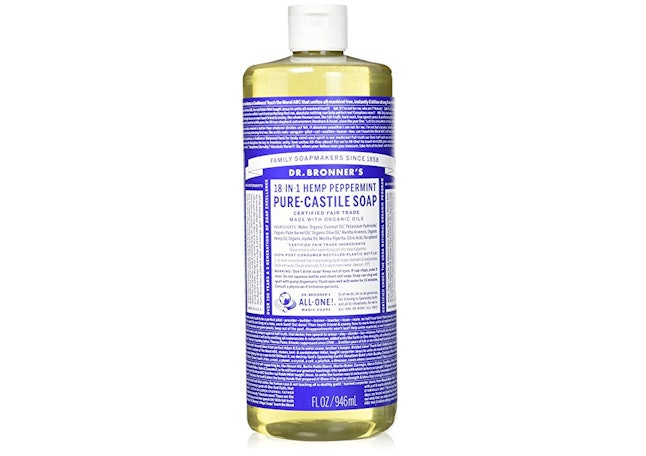 Dr. Bronner's Pure-Castile Liquid Soap In Peppermint, $16, Amazon
Over 7,000 people can't get enough of this soap. It's made with organic vegan ingredients and even comes in packaging made with recycled plastic. The best selling peppermint scent leaves your body feeling clean and tingly. The invigorating scent also helps wake you up, making it the perfect soap to use in the morning.
2. This Long Loofa That Can Exfoliate Those Hard-To-Reach Spots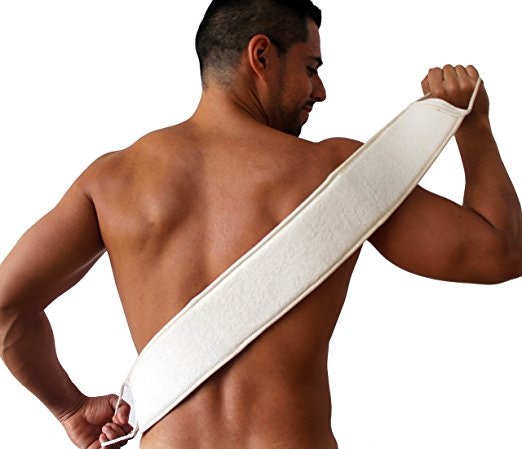 Voda Reve Exfoliating Loofah Back Scrubber, $14, Amazon
Exfoliate and clean your back without bending over backwards. This loofah conveniently holds your soap on the inside so it suds up so you can clean your back with ease. The front exfoliates away dry, rough skin, while the back side polishes it out.
3. A Charcoal Konjac Sponge That Is The Pinnacle Of Trendy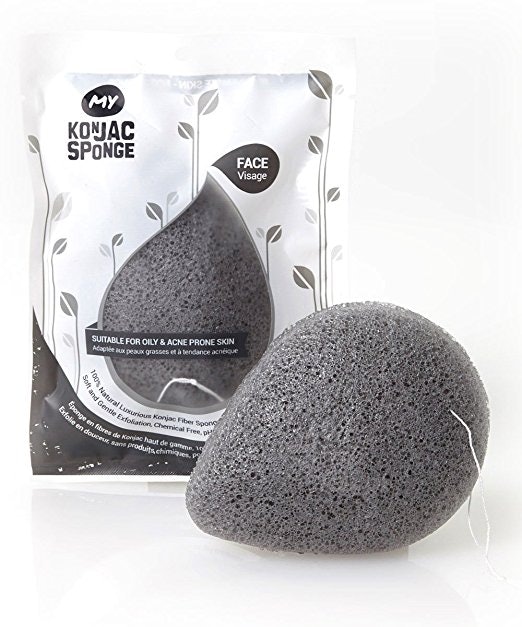 MY Konjac Sponge All Natural Korean Facial Sponge, $10, Amazon
Combine two of the hottest products on the market right now and you've got a miracle facial sponge. This konjac sponge is made with activated bamboo. They work together to exfoliate skin and suck oil and bacteria out of pores. Your complexion will be radiant and your skin will be smoother than it has ever been.
4. This Witch Hazel That Has Users Charmed
Thayers Alcohol-Free Rose Petal Witch Hazel With Aloe Vera, $11, Amazon
Give your skin a break from harsh chemicals and use a natural toner instead. This one is made with rose petal, witch hazel, and aloe vera. It not only cleanses skin, but it soothes any irritation you may have. And with over 7,800 reviews, you'd be crazy not to give it a try.
5. This Facial Spray Amazon Reviewers Swear By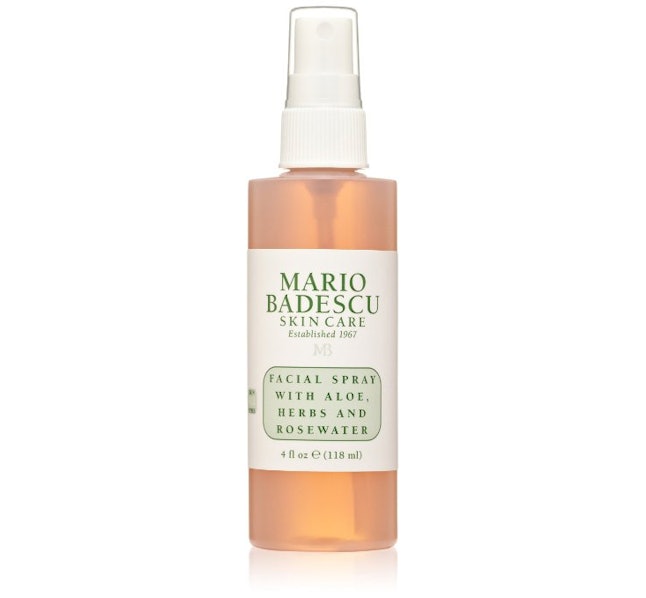 Mario Badescu Facial Spray With Aloe Herbs And Rosewater, $7, Amazon
Sometimes you just need a midday pick me up. And a refreshing, hydrating facial mist is the way to go. This one is made with herbal extracts and rosewater to help soothe dehydrated, tight skin. Plus, it won't mess up your makeup so you can use it without having to touch anything up.
6. This Weird Black Teeth Whitening Powder That 7,000+ People Love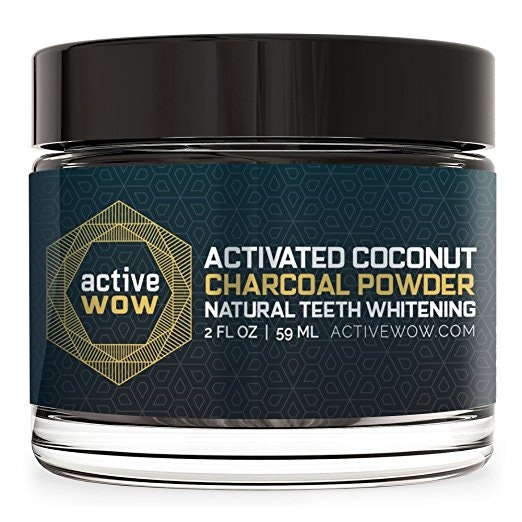 Active Wow Teeth Whitening Charcoal Powder Natural, $25, Amazon
Whiten teeth without worrying about sensitivity. Made with the highest quality coconut, this activated charcoal powder whitens teeth without hurting your gums or decaying enamel. It removes stains caused by coffee, wine, and more without the use of harsh chemicals, so you can show off your pearly whites with pride.
7. This Dandruff Shampoo That Actually Works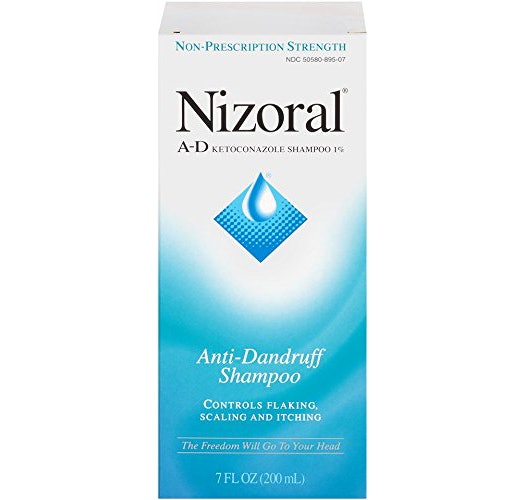 Nizoral A-D Anti-Dandruff Shampoo, $15, Amazon
Dandruff can be a damper. Manage your outbreaks with a shampoo that's made with Ketoconazole, an ingredient that helps control flaking, scaling, and itching. You only have to use it twice a week to help stop the causes of dandruff. Plus, over 2,000 people have tested it out, which means it does the job.
8. This Foot Exfoliant That's Taken The Internet By Storm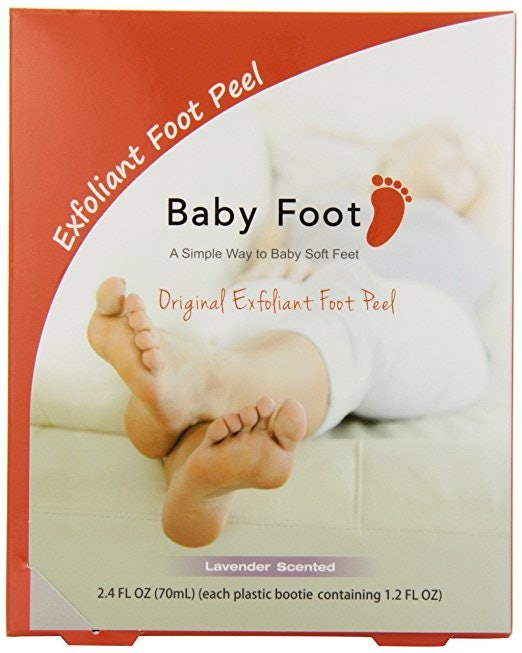 Baby Foot Deep Exfoliating Foot Peel, $25, Amazon
Over 5,000 reviewers on Amazon swear by these foot peels — and I count myself among them. I actually do one twice a year and there is nothing more satisfying than pulling your dead skin off (yes it sounds gross, but it's actually amazing). After using the foot peel and suffering through a few days of scaly feet, you'll be left with visibly softer feet that you'll be happy to show off in your favorite pair of sandals.
9. This Coconut Oil That Is Organic And Extra-Virgin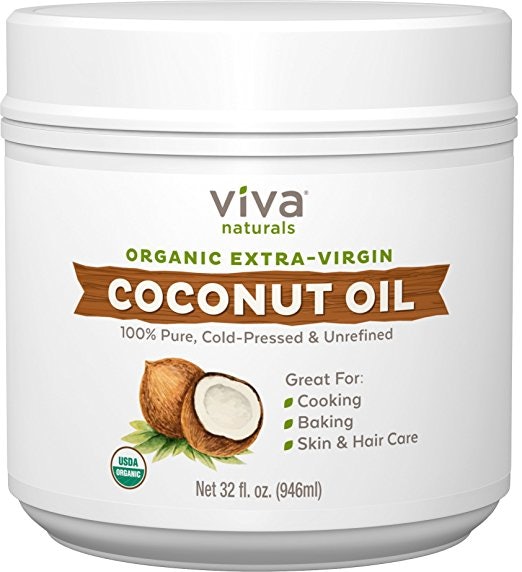 Viva Naturals Organic Extra Virgin Coconut Oil, $15, Amazon
Coconut Oil isn't just for the kitchen. It's a product that can be used to really get your hair and skin looking and feeling great. This one is sourced from coconuts grown in the Philippines. It's cold-pressed, unrefined, and organic which allows it to retain its silky texture and tropical aroma. Use it on your skin and in your hair for smooth, shiny, silky, healthy results.
10. This Dead Sea Mud Mask That Does It All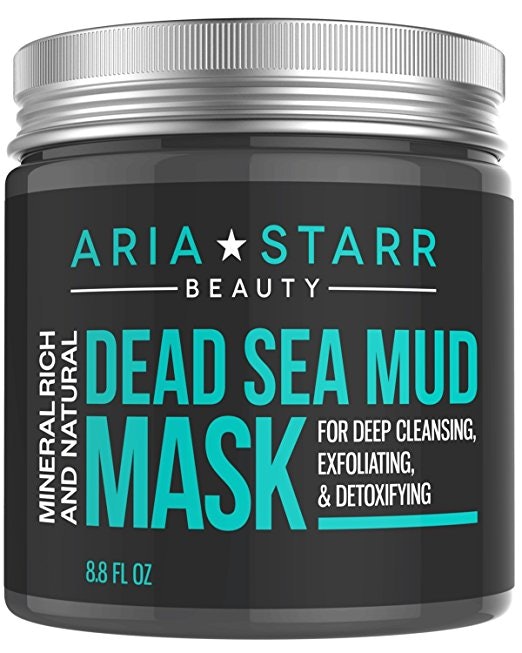 Aria Starr Beauty Natural Dead Sea Mud Mask, $15, Amazon
A face mask that can detoxify, deep clean, exfoliate, moisturize, and fight acne and blackheads sounds like a miracle product — but this one does just that. It's made with high-quality dead sea mud, shea butter, aloe vera, and jojoba oil. The ingredients work together to extract toxins and impurities that are commonly found in skin. You'll be left with clean pores, an even skin tone, and moisturized skin.
11. This Seemingly Simple Foot Cream That Seriously Softens Skin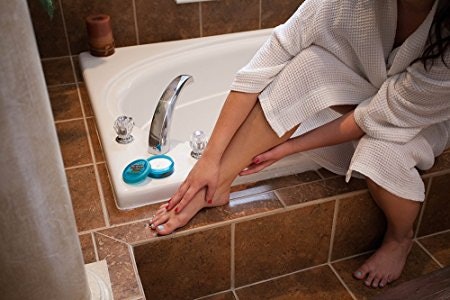 O'Keeffe's For Healthy Feet Foot Cream, $8, Amazon
If you're looking for a quick cure for dry, cracked feet, look no further. This foot cream has racked up rave reviews on Amazon for its ability to penetrate even the toughest skin. This one boosts moisture and softens skin. It's thick so it leaves you with feet you'll want to show off.
12. This Maximum Strength Acne Wash For Moderate To Sever Acne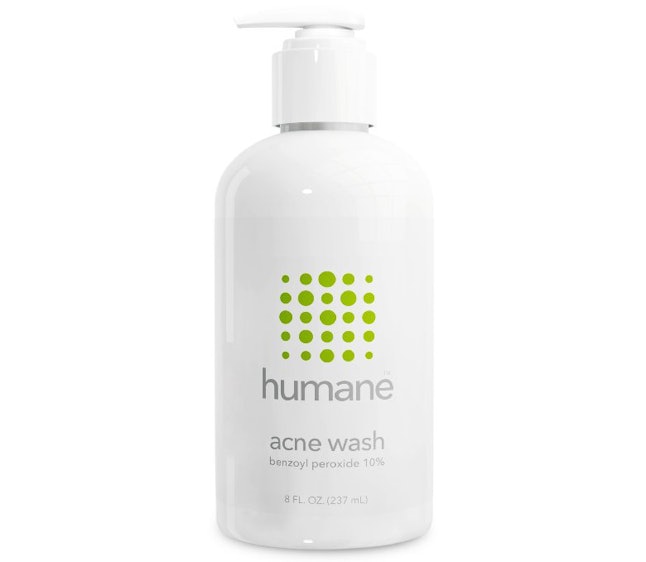 Humane Benzoyl Peroxide 10% Acne Treatment Body And Face Wash, $22, Amazon
This acne wash is not for the faint of heart. If you have sensitive skin, steer clear! But, if you are a moderate to severe acne sufferer, this treatment is worth checking out. The maximum strength formula is made with benzoyl peroxide and no parabens, formaldehyde, or any other bad stuff.
13. This Natural Deodorant That Actually Work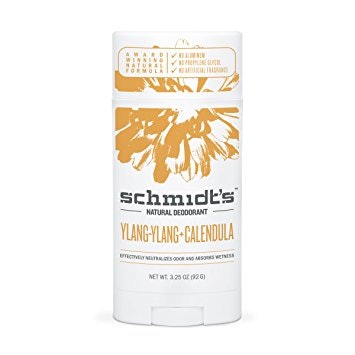 Schmidt's Deodorant Stick, $10, Amazon
Feel fresh and clean all day with an award winning natural deodorant. The aluminum-free deodorant absorbs sweat and odors, and keeps you feeling dry all day long. With over 3,000 Amazon reviewers putting their seal of approval on it, I think we can finally put to rest the debate over whether natural deodorants actually work.
14. This Foot File With Over 8,000 Positive Reviews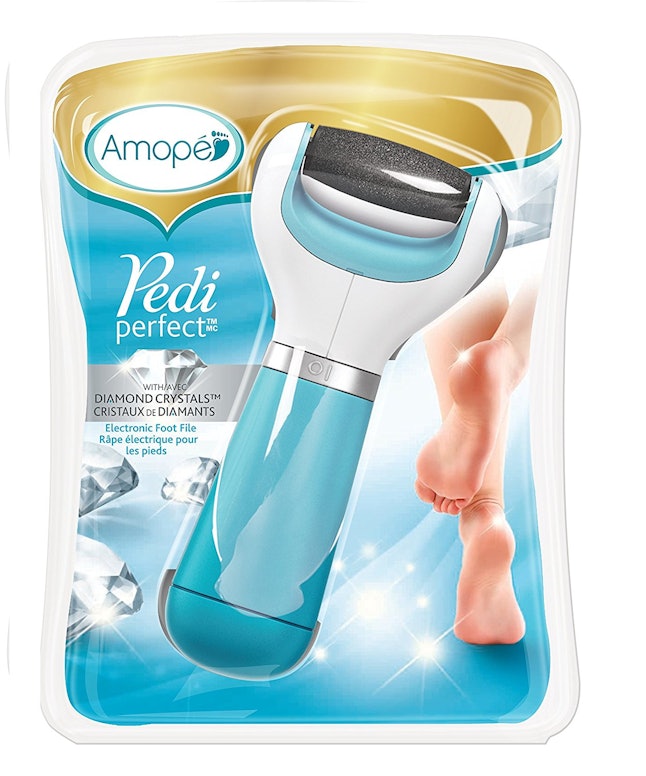 Amope Pedi Perfect Electronic Foot File With Diamond Crystals, $28, Amazon
Remove dead skin with an electric foot file. It will save you a trip to the nail salon as it gently buffs away hard skin to reveal smooth, soft feet. The roller, which is refillable, spins 360 degrees and works hard to get rid of callouses. It's the perfect tool to use before you give yourself the pedicure you deserve.
15. The Nail Clippers Being Called
"The Last Set You'll Ever Need To Own"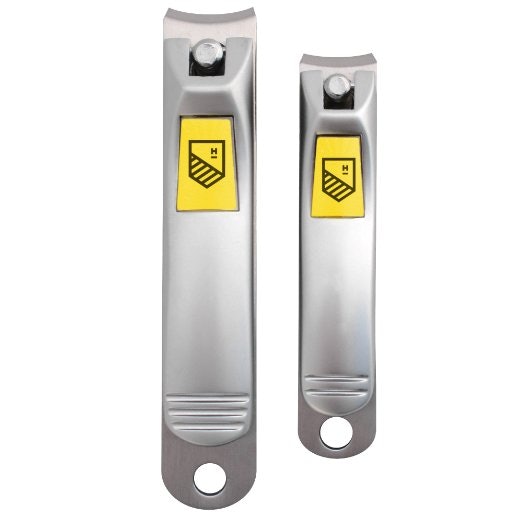 Harperton Nail Clipper Set, $19, Amazon
Let's face it everyone probably owns nail clippers. So you may be wondering what enticed more than 5,000 people to not only buy them, but also leave a review. One person said, "If you are looking for the the last set of clippers you'll ever need to own, I think you just found them."