Best Advantages of Augmented Reality: in BUSINESS
Augmented Reality (AR) is making strides in the next-gen digital technology revolution. It enables the superimposition of virtual objects to reality via a smartphone or tablet screen. The expanded reality, in short, consists of combining the image of the real world with a computer-generated image. Also, owing to its potential and impact, AR is gradually incorporated into all spheres of business including online retail, healthcare, travel and tourism, education, real estate, and many more. The imperative for the immense popularity of AR apps is the offered immersive and tangible user experience.
Through this article, we wish to highlight the key benefits of Augmented Reality apps. And, how AR technology is now a mainstream reality to recreate new and future learning experiences.
Augmented Reality Benefits For Business
AR brings together a new way of information sharing and interaction capabilities that ultimately, help address the business requirements better. It is a blend of the physical and the virtual worlds, with the real-world elements. It augments the computer-generated perceptual information to render immersive experiences. The information may be in the form of sound, video, graphics, and more. Owing to its fantastic educative and marketing potential, it can accelerate many business operations. Further, it can create new ways to promote products or enable learning new activities, facilitate the work of specialists and lead to cost savings.
Improved Information: One of the pros of augmented reality apps is that it provides the user with additional information on the product, space, and material in real time. Also, the consumer can retrieve valuable information about the product's characteristics, its use, availability and more.

Easy Visualization: AR makes it possible to visualize an object in a personalized context. The consumer or user can modify its characteristics (size or color) or observe it under all its seams. One of the early adopters of this visualization skill into practice was the fashion industry. It helped traders and even the end customer to connect with the benefit of the offering instantly. Learn more about the benefits of Augmented Reality for the Real Estate Industry that helped improve the interaction between the realtor and the customers.

Unique User Experiences: Another significant advantage of augmented reality apps is that it provides the opportunity for consumers to make well-informed buying decisions anywhere and anytime. Alternatively, in situations where users are self-reliant, without assistance or real-time information, augmented reality adds value to a buying process. On a merchant site, it can create interactions that would not have existed, otherwise, between a customer and a seller.

Improve Brand Awareness and Image: Technological innovations are always popular with users and potential customers. A company or brand that chooses to use augmented reality applications still has the upper hand to gain visibility into their business. It would help attract new customers and retain the existing ones.

Competitive Differentiation: Augmented reality apps have emerged as a new way to reach a more technophile audience, to differentiate the business from the competition, and above all to introduce and communicate a new service. Further, it helps infuse the brand proposition in the memory of the users. AR, thus, becomes an essential sales tool. It makes the brand more attractive and upscale. Learn more about how AR helps companies from the Retail & eCommerce Industry to create differentiation and drive business growth.
Augmented or Virtual: what's the difference?
Both virtual and augmented realities provide the experience through the 3D high definition audio and video, but there is still a big difference. The VR is completely immersive and puts a user into isolated reality while the AR is partly immersive. In the world of augmented reality, your user can look around and through artificial objects of the expanded layer.
In AR the computer algorithm uses sensors and markers to spot the current position of physical objects and determine a location of simulated ones. After this technology renders the picture that will appear on the camera.
VR uses similar markers and math algorithms, but the environment is completely simulated. Once the user turns his head or moves eyes, the graphic reacts accordingly.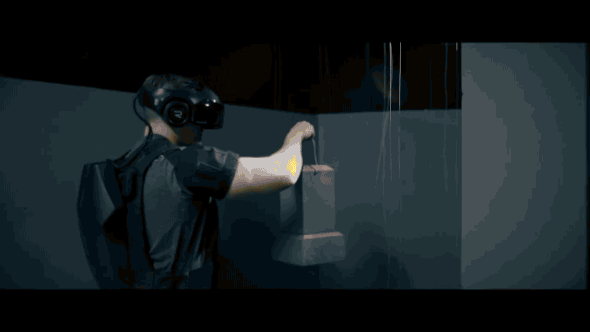 AR Market Expansion
According to Digi-Capital fundamental "Augmented/Virtual Reality Report Q2 2015", the AR/VR market is going to expand up to $150 billion by 2020. Moreover, the augmented reality has got the lion's share of the market at $120 billion (VR gets only $30 billion, though).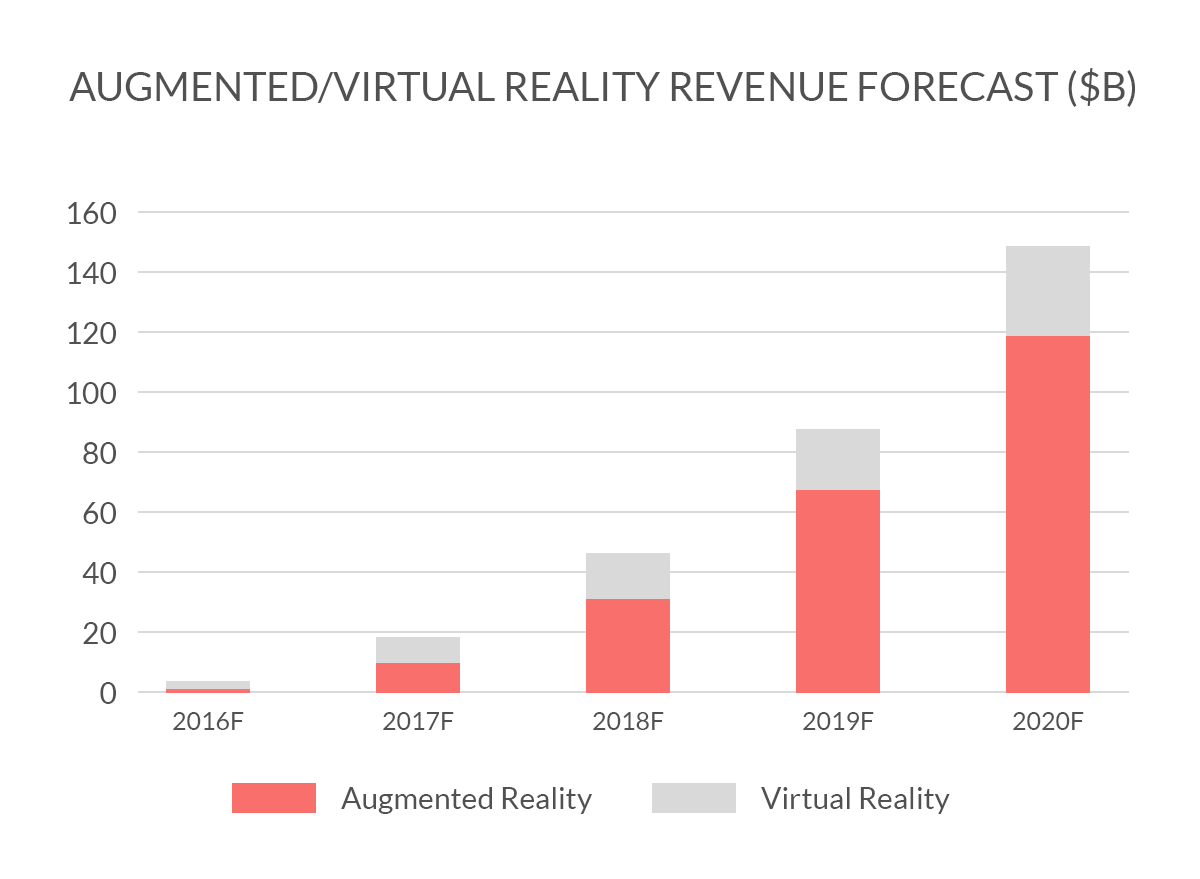 The latest market study provided by Juniper Research shows that enterprises and industrial markets are going to bite the $2.4 billion piece of pie in 2019. Compared to $247 million in 2014, the difference is quite impressive!

Because of the global technology explosion, software improvements and the preponderance of wearables, Juniper predicts extending interest in the features of Augmented Reality among businesses. Though, until the end of the decade, the adoption won't be so fast.

Rishabh Software specializes in mobile application development solutions and can build responsive and robust apps for your business.
Advantages of Augmented Reality for Business
AR is going to change the shape of commerce thoroughly shortly. The core advantage for business in augmented reality development for smartphones and tablets is that the hardware is available, and the usage is intuitive and understanding.

In the next few years, users will be able to try on clothes without actually wearing it or to check if the furniture fits the interior (IKEA actually already did it!). And all this just with a help of Android or iPhone augmented reality app. Moreover, with future technology evolution there will appear other human sensors as smelling, touching and feeling.
Innovations offer new opportunities for a vast amount of markets and spheres, among them banking, real estate, healthcare, and even manufacturing. Let`s take a deep-dive into use-cases, which we as an AR development company considering the most promising ones.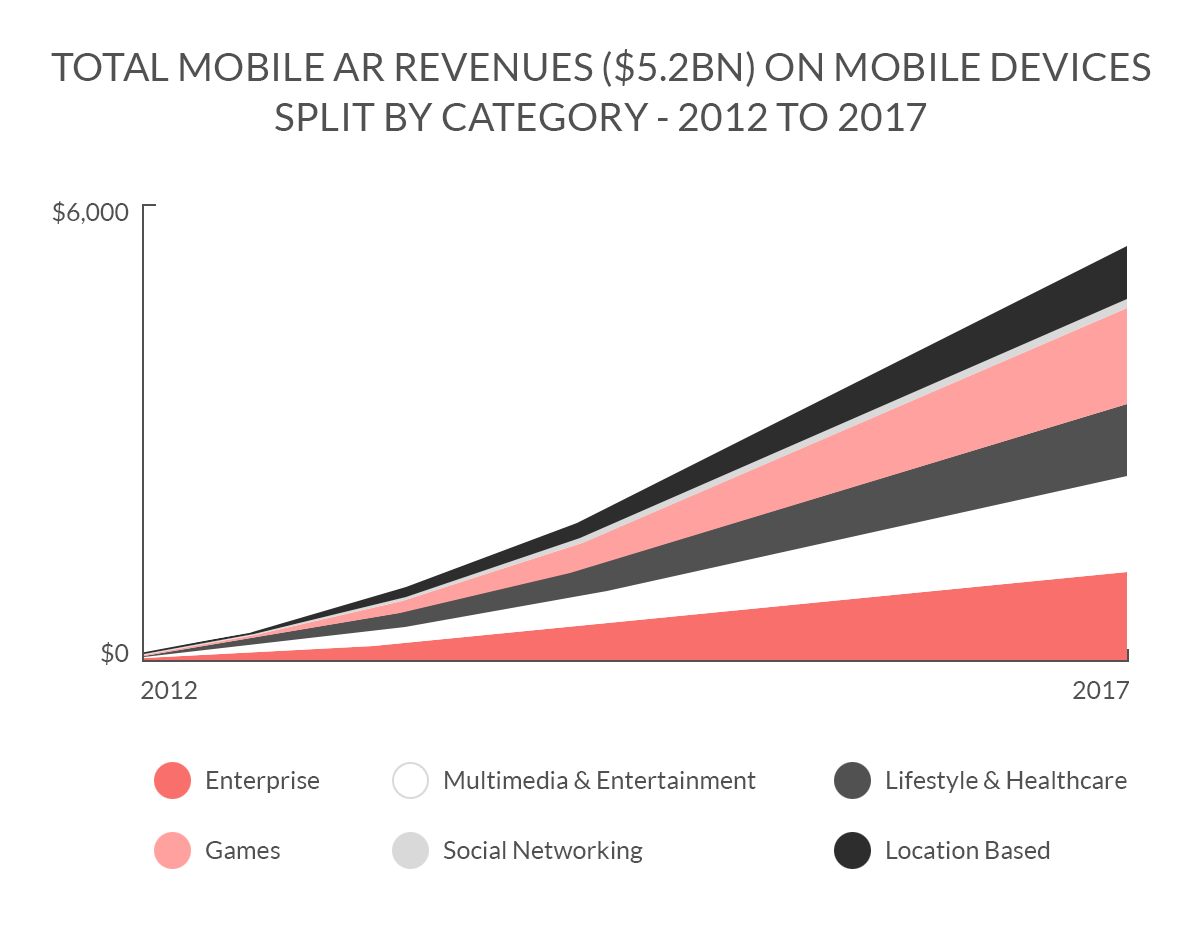 Retail
Developing augmented reality Android application or the one for iOS discovers the new experience both for offline and online shopping. Virtual fitting rooms will help users choose the right size and decreased purchases returns. Same is for choosing a new car color or new furniture for your apartment. Also, don`t forget that you can use this technology for promotional campaigns adding AR on supportive materials.
Manufacturing
AR can facilitate and accelerate the building processes at the factory. Project managers can monitor work progress in real time through AR markers on equipment. Besides, it can save a ton of time using digital maps and plants. Pointing a device into location shows how the piece of a machine will fit the final construction.
Education and training
AR in education brings truly unlimited possibilities for teaching and learning process. Additional reality provides the unique cognition path with immersive real-life simulations.
Technology gives entirely real psychological and physical experience and helps get authentic virtual experience that can be implemented in real life.
Now medical students can try their first surgeries without injuring patients, and future astronauts can get ready for the next space mission.
Travel and Tourism
GPS mobile apps with AR can show tourist routes and directions to desirable destinations, translate the signs on the street, give information about sightseeing. Adding a layer of additional reality to museums ensure users with new cultural experience. So, if you are going to develop a GPS navigation app think about adding AR feature, which could be competitive advantage.
Five benefits of AR for marketing:
Technology is unique and noticeable
For now, there are much more chances to surprise your customers and create a necessary buzz because you can give your consumers something your competitors don`t have yet.
Augmented reality gets more virality
Speaking about the buzz. The word of mouth and social sharing increase the acquisition of new customers.
AR opportunities for personalization
A chance to create something unique and thereby to express one's individuality is way more engaging than standard media content.
Content quality improvement
With AR you give users a tool for creating the content that they couldn`t do before by themselves.
Interactivity maintains the retention
Not in vain, the entertainment trend stays in leaders list. The highly exciting content motivates users to interact with your mobile application again and again.
How Much Does an AR App Cost
However, the augmented reality app development cost depends on various factors. You should start your development process with very detailed documentation which assures that your AR app will meet the needs of end users.
The cost to develop an AR app consists of three components:
The place, where additional reality should appear
The information that the user is supposed to get
How you're going to provide this experience
Technology that helps define the place might involve 2D and 3D image tracking and matching, face recognition, SLAM (Simultaneous localization and mapping) and location tracking. The last one also includes GPS, accelerometer, gyroscope, and compass.

The augmented reality information and the way you would add it often involve 3D model rendering and animation gesture detection. Information can be presented in any way: as a text, picture, video or audio.

To build an augmented reality for Android or iOS, there are a lot of tools for any environment and gadget. Our augmented reality app developers named six most common and convenient tools:
As you can see, the number of features and tools creates a huge difference in pricing. But to estimate your project and get the exact price, you can focus on the average pricing per hour.

The rates of developers start from $35 per hour, for example. You might also need a talented designer. His prices start at $25. Considering the features of geolocation, GPS, visual renders and a designers part which in many ways determines success, the very basic version will cost around

$10-12 K.